Specialty of Nursing Management and Teaching
Home ›
Master ›
Specialty of Nursing Management and Teaching
Read more about this programme on the institution's website
Programme Description
Name of the program: Specialty in Management and Teaching in Nursing
DGP key:
Normal period to graduate: 3 semesters
Credits: 131
Diploma that confers: Specialty in Management and Teaching in Nursing
Campus where it is offered: Hermosillo
Programme description
General purpose
To train nursing specialists in the area of management and teaching with professional competences that allow the planning, organisation, coordination and control of administrative processes in health institutions of the public and private sector, which contribute in the solution of problems or use of opportunities in comprehensive care for the health of people and populations.
Specific objectives
Apply strategic planning as a tool to design feasible solution proposals to operationalize, in order to prevent and address the problem of care management and thus increase the productivity and efficiency of nursing services.
Perform comprehensive diagnoses of nursing services oriented to the detection and prioritization of the problem, opportunities and risks in the management of care, to implement programs and / or projects tending to intervene in the situation detected with the methodological support of the administrative process.
Develop research in the area of care management or service management, leading to quality nursing care and effective use of resources.
Develop skills for the identification of organizational culture factors and their interrelation with the work environment in order to plan, implement and evaluate programs for the achievement of transformations in the various organizational structures.
Develop a leadership attitude for the management of nursing services with a strategic vision that guarantees quality in the implementation of substantive processes of the organisation for care management.
Integrate the knowledge that underlies the teaching-learning process, through the analysis of the concepts, principles, elements, methods and objectives to be applied to the benefit of the user population and nursing education programs.
Contribute to the continuing education of nursing professionals to promote the quality, safety and satisfaction of the users of nursing services.
Prepare nursing education projects that respond to the requirements of health institutions, professional and social needs.
Empower the nursing staff for the training and updating of human resources for health at different educational levels, according to national requirements and institutional objectives.
What Will Your Competencies Be When You Finish The Programme?
Egress Profile
The or the graduate of the Specialty in Nursing Management and Teaching (EDGE) will be competent to:
Demonstrate a high level of competence and skill in the application of the administrative process in health institutions.
Demonstrate competitiveness in the application of the teaching-learning process in the field of nursing.
Make use of strategic planning as a tool to develop comprehensive diagnoses and feasible solution proposals to operationalize in the various work scenarios and hierarchical levels where you participate.
Exercise their creative leadership potential through the individual and group motivation of people in order to achieve their best participation effort during the performance of their duties.
Design, develop and evaluate projects and programs of attention, education and health promotion, based on market studies applied in the work scenarios where they develop their professional activity, based on the principles, bioethical, humanistic and deontological values of the profession.
Curriculum
Curricular map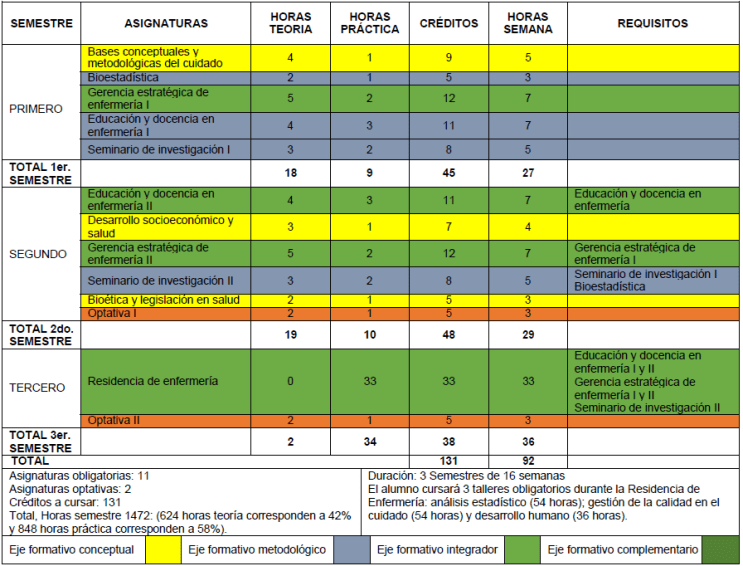 List of subjects
Conceptual and methodological bases of care
Biostatistics
Strategic nursing management I
Education and teaching in nursing I
Research Seminar I
Education and teaching in nursing II
Socioeconomic development and health
Strategic Management of Nursing II
Research Seminar II
Bioethics and legislation in health
Optional I
Nursing home
Optional II
Lines of generation and / or application of knowledge of the program
Quality in the training of human resources
Management for the quality of nursing care
Academic Core
| | | |
| --- | --- | --- |
| First name | Mail | LGAC |
| MC María Alejandra Favela Ocaño | alejandra.favela@unison.mx | 1 and 2 |
| MC Claudia Figueroa Ibarra | claudia.figueroa@unison.mx | 1 and 2 |
| MC Eva Angelina Hernández Villa | eva.hernandez@unison.mx | 1 and 2 |
| Dr. Julio Alfredo García Puga | julio.garcia@unison.mx | 1 and 2 |
| Dr. Marcela Padilla Languré | marcela.padilla@unison.mx | 1 and 2 |
| Dra. María Guadalupe Galaz Sánchez | maria.galaz@unison.mx | 1 and 2 |
| Dr. María Olga Quintana Zavala | olga.quintana@unison.mx | 1 and 2 |
| Dr. María Remedios Olivas Peñuñuri | remedios.olivas@unison.mx | 1 and 2 |
| Dr. María Rubí Vargas | rubi.vargas@unison.mx | 1 and 2 |
| Dr. Rosa Elena Salazar Ruibal | rosa.salazar@unison.mx | 1 and 2 |
| Dra. Rosa María Tinajero González | rosa.tinajero@unison.mx | 1 and 2 |
| Dr. Sandra Lidia Peralta Peña | sandra.peralta@unison.mx | 1 and 2 |
How to enter this postgraduate course?
Entry requirements
The applicant will submit in original and two copies, the following documents:
Bachelor's Degree in Nursing.
Professional Certificate of Licentiate in Nursing.
Certificate of undergraduate studies, with a minimum career average of 80 on a scale of 0 to 100.
Cover 1000 points in the National Graduate Entrance Exam (EXANI III).
Birth certificate of recent expedition.
Health medical certificate, issued by an official health institution, recently issued (no more than 30 days prior to presentation).
Official voucher of minimum professional experience of two years.
Two letters of recommendation from professionals of recognized prestige in the workplace.
Executive summary of the curriculum vitae documented the last two years.
Constancy of reading and comprehension of texts in English language (TOEFL ITP, 480 points).
Commitment letter of full-time dedication during the study time for those who obtain a CONACyT scholarship.
Approve propaedeutic course with a minimum grade of 80 on a scale of 0 to 100.
Three recent photographs, children's size in black and white.
CURP expanded to 200%.
In the case of applications for admission in which revalidation, equivalence or commutation of studies is required, it will be carried out in accordance with the provisions of Chapter XIII of the Revalidation, Equivalence and Commutation of the REP-UNISON.
Criteria and selection process
Fill application for admission to the selection process.
Submit a letter explaining the reasons for admission to the postgraduate course, addressed to the coordinator of the postgraduate course.
Conduct an interview with the Academic Committee of the Postgraduate Course (CAP).
Admission profile
Generic competitions
Communicative capacity: Listen, interpret and issue relevant messages in different contexts through the use of appropriate means, codes and tools.
Collaborative work: Participate and collaborate effectively in diverse teams.
Ethical commitment: Participates with civic and ethical conscience in the life of their community, region, Mexico and the world.
Digital competence: It develops professionally and personally in the digital economy.
Ability to learn and update permanently: Learn by initiative and self-interest throughout life.
Interpersonal skills: Develops the skills of socialization, empathy and emotion needed to open and maintain harmonious coexistence with social groups of interest.
Sustainability: Contributes to sustainable development in a critical manner with responsible actions.
Ability to make decisions: It is able to identify and analyse the problems and recognizes the relevant aspects to take into account in decision making.
Appreciation of diversity and multiculturalism: Maintains a respectful attitude towards interculturality and the diversity of beliefs, values, ideas and social practices.
Initiative and entrepreneur spirit: Assumes a constant search for opportunities to generate viable project initiatives.
Ability to adapt to new situations: Develop skills to identify and adapt opportunely to the phenomena and variables that are being generated in a new environment.
Critical thinking: Sustains a personal stance on topics of interest and general relevance considering other points of view in a critical and reflective manner.
Specific competences
Ability to plan, execute and evaluate nursing care activities.
Skill for the development and innovation of strategic and operational plans in the different scenarios of nursing work.
Organize services and human, technical, material and financial resources efficiently.
Leadership for the management of nursing care and the administration of human capital that encourages self-management and professional self-evaluation.
Ability to carry out the evaluation and continuous improvement of nursing services.
Ability to use information and communication technologies to make decisions and manage resources for health care.
Ability to design and manage research projects related to nursing and health care.
Ability to work within the context of the ethical, normative and legal codes of the profession.
Ability to conduct the teaching-learning process.
Capacity and ability to plan and execute strategies for training and permanent updating of health personnel.
What do you need to get the degree?
Qualification requirements
To obtain the specialty diploma, you must:
Approve the total credits and meet the other requirements established in the corresponding graduate program.
Pass the specialty examination in the written phase and in the oral phase before a jury named ex profeso; Y
Comply with the provisions and requirements demanded by the School Services Department for the issuance of the corresponding specialty diploma.
Titration options
Article 64 of the REP-UNISON, establishes that the graduates of the graduate programs may choose the different degree options established in the aforementioned Regulation, as well as other options contemplated in the respective plan and program approved by the Academic College.
The option of degree chosen by the student will be presented in written and oral form as determined in Articles 65, 66 and 67 of Chapter XII of the REP-UNISON. The written phase consists in the delivery of a report or document according to the chosen option of degree. The oral phase is the presentation and defence of the work of titulación before a jury integrated by 3 synodal as mandata Article 68 of the aforementioned Regulation.
The EGDE, with professional orientation, offers the student the following options for obtaining the degree, which will be carried out individually:
Thesis
Thesis
Terminal Work or Administrative Diagnostic
How much does it cost to study this postgraduate course?
Cost of the EXANI-III
The registration cost of applicants to enter the Universidad de Sonora is announced annually along with the first entry notice. Check this information for the last year: http://posgradoenfermeria.uson.mx/
Registration and tuition fees
Students, when enrolling in any of the graduate programs, must cover the corresponding fees according to the current minimum wage in the city of Hermosillo, as established in the Quotas Regulation. Check this information for the last year: fees and discounts by subject http://www.serviciosescolares.uson.mx/
Infrastructure fee
The infrastructure fee is: $ 8,000 each semester.
More reports
Dr. Sandra Lidia Peralta Peña
Postgraduate Coordinator
Building 10B high floor, in Blvd. Luis Encinas, s / n. Hermosillo, Sonora.
posgrado.enfermeria@unison.mx
Tel: 52 (662) 259.21.65 Ext. 4727
Last updated Mar 2020
About the School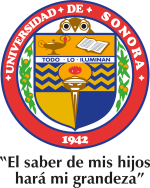 La Universidad de Sonora es una institución pública autónoma que tiene como misión formar, en programas educativos de calidad y pertinencia, profesionales integrales y competentes a nivel nacional e i ... Read More
La Universidad de Sonora es una institución pública autónoma que tiene como misión formar, en programas educativos de calidad y pertinencia, profesionales integrales y competentes a nivel nacional e internacional, articulando la docencia con la generación, aplicación y transferencia del conocimiento y la tecnología, así como con la vinculación con los sectores productivo y social, para contribuir al desarrollo sostenible de la sociedad.
Read Less