Programme Description
M.D. Programme
Each semester is 18-weeks, giving students a short break between their studies. New and transfer students may apply for January and August start dates while May is reserved for transfer students only. The first two years, semesters 1-4, are dedicated to completing the Basic Sciences at the serene UHSA campus on the beautiful island of Antigua. Upon completion of the Basic Sciences, students spend the fifth semester (16-weeks) completing the block review Integrated Review of the Basic Sciences. Following the fifth semester, students spend the final two years of the medical program completing the Clinical Sciences. The U.H.S.A. M.D. program is based upon the curriculum standards of U.S. medical schools by fully integrating the basic and clinical sciences throughout the entire M.D. program. Students begin interacting with patients during the first semester through local clinics around the island, in addition to UHSA's Free Clinic of English Harbour where students are supervised by both UHSA faculty as well as experienced practicing physicians and nurses from clinics and hospitals around the island.
CURRICULUM
Integrated Basic Sciences Curriculum
Year One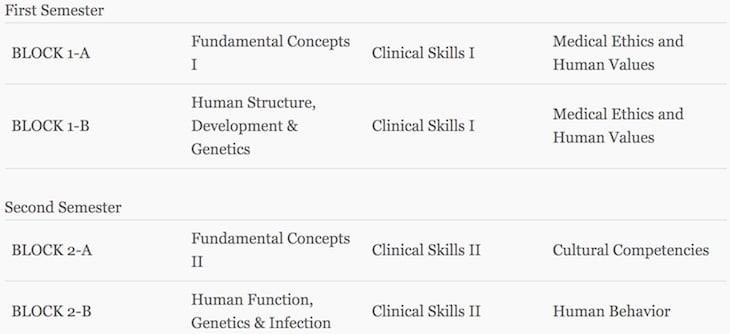 Year Two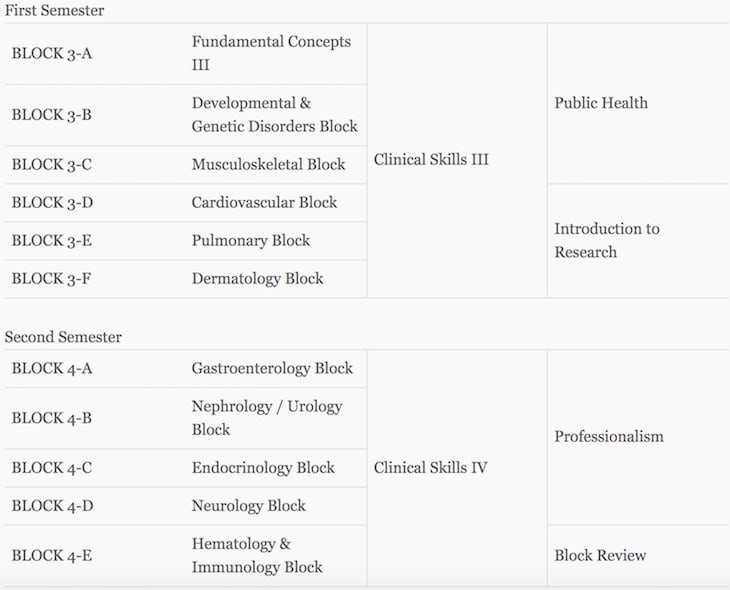 Clinical Sciences Curriculum
Students fulfil the Clinical Sciences portion of the curriculum, which consists of both core and elective rotations, at UHSA's leading affiliate teaching hospitals located in the United States, Puerto Rico, and the United Kingdom. Once advancing to the Clinical Sciences, students are first required to complete a fifth semester for the integrated review of the basic sciences, followed by 2-years of core and elective rotations.
Core Clinical Rotations
Core rotations are designed to provide students with a foundation for understanding the core areas of medical practice. Once students reach the Clinical Sciences, scheduling for rotations is completed by the University's clinical department. Required core rotations are as follows: 1. Internal Medicine 12 weeks 2. General Surgery 12 weeks 3. Obstetrics & Gynecology 6 weeks 4. Pediatrics 6 weeks 5. Psychiatry 6 weeks 6. Family Medicine 6 weeks
Elective Clinical Rotations
During Elective Rotations (30 weeks), students have the opportunity to enrich and diversify their medical education within areas of interest. Electives also allow for both broad sampling and in-depth involvement with areas that students may select, to specialize in during their residency. Examples of electives might include:
Family Practice
Cardiology
Emergency Medicine
Anesthesiology
Orthopedic Surgery
Otolaryngology
Neurology
Radiology
Preventative Medicine/Infectious Disease
General Surgery
ADMISSIONS REQUIREMENTS
All required documents, if originally in a foreign language, must be accompanied by a notarized English translation. All transcripts documenting post-secondary coursework completed in institutions outside the United States or Canada must also be evaluated by an approved international credential evaluation service. Letters of Recommendation must also be in English.
The following supporting documents are required when applying to UHSA School of Medicine:
Non-refundable application fee of $75 (USD)
Official Transcripts from all colleges/universities attended (This is typically a lengthy process, so plan accordingly). Foreign applications must be translated into English prior to being received by U.H.S.A. Transcripts should be sent to University of Health Sciences Antigua C/O Marketing and Recruitment Office 900 W. Jackson Blvd. Suite 7 East Chicago, IL 60607
2 (two) 2×2 Passport size Photos
Copy of Passport (if available)
Two (2) official Letters Of Recommendation (LOR) from individuals who can evaluate past academic and/or professional achievements These letters must be in English and appear on original letterhead stationery. LOR's must be sent directly from the individual giving the recommendation. Letters sent from the applicant will not be accepted.
Personal Statement The personal statement is your opportunity to give additional information about yourself to the Medical School. You should state in no less than 400 words why you are interested in a medical career when you first became aware of this interest and what your plans are for the future if you are accepted into the medical program. Please also explain your personal experience within the field. It is suggested that you include: participation in voluntary work, experience in research projects, community work, and any other important information you would like the Admissions Committee to know about you. Your application to the Medical School will not be evaluated without a Personal Statement.
Medical College Admission Test (MCAT): MCAT is required for all U.S. citizens and permanent residents applying for admission to the school of medicine. Canadian and International students are not required to submit MCAT scores. Although the MCAT is a part of the admissions criteria, U.H.S.A. takes more of a holistic approach to admission decisions by evaluating the academic credentials, experiences and personal attributes of all applicants. To learn more about the MCAT or to register for the exam, visit the AAMC website.
Entrance Requirements A Bachelor's degree or 90 undergraduate level credit hours are required for admission to U.H.S.A. School of Medicine. The minimum GPA requirement for consideration of admission to the School of Medicine is 3.0. Coursework must include the following prerequisites prior to enrolling at U.H.S.A.:
General Biology (with lab) 8 Credits
General or Inorganic Chemistry (with lab) 8 Credits
Organic Chemistry (with lab) 8 Credits
General Physics with lab 8 Credits
College-level Mathematics 3 Credits
College level English 6 Credits
Applicants planning to practice in Puerto Rico are required to have the following prerequisites in addition to those mentioned above:
College level Spanish 6 Credits
College level English 12 Credits (total)
Behavioral and Social Sciences 12 Credits*
*These credits may be in Sociology, Political Sciences, Economics, Anthropology, and Psychology. Note: If you are contemplating licensure in a country outside of the US, Canada or UK, there may be additional undergraduate requirements beyond or different from those stated above. We, therefore, recommend that students verify with the licensing board of the country where they intend to practice medicine.
Non-Discrimination Policy UHSA does not discriminate on the basis of age, creed, gender identity, national origin, race, sex, or sexual orientation. The School ensures that its learning environment promotes the development of explicit and appropriate professional attributes in its students such as attitudes, behaviors, and identity. If you have additional questions or require assistance, contact an admissions representative directly by calling 866.719.0302 (toll-free) 787.753.0253 Monday-Friday. Application Deadlines

Note: The above deadlines are enforced to improve your chances of receiving a seat for the desired start date. Candidates applying to the School of Medicine are considered as long as seats are available. However, applications are automatically considered for the following semester in the event that seats are no longer available.
HOSPITAL AFFILIATIONS
U.H.S.A. utilizes a vast network of affiliated teaching hospitals where students complete the clinical sciences. In an effort to improve the opportunity for residency match, students participate alongside students from the United States and students from around the world. One of the benefits of attending U.H.S.A. is that students are not subject to extensive clinical wait times due to overpopulated class sizes. The Clinical Sciences department at U.H.S.A. manages hospital placements for clinical students.
Last updated Dec 2017
About the School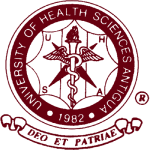 Founded in 1982, the University of Health Sciences Antigua (UHSA) located in Dowhill, Piccadilly Antigua is an outstanding academic institution dedicated to educating exemplary physicians, nurses, pos ... Read More
Founded in 1982, the University of Health Sciences Antigua (UHSA) located in Dowhill, Piccadilly Antigua is an outstanding academic institution dedicated to educating exemplary physicians, nurses, postgraduates and researchers in accordance with the highest professional standards who will integrate clinical, biomedical and behavioral knowledge to promote the health and well-being of patients and communities.
Read Less