Bachelor's Degree in Nursing
Programme Description
Bachelor of Health Care
210 ECTS credits
Intake 30
Degree Programme in Nursing
Campus: Satakunnankatu 23, Pori
Important Dates
Application period: 13 March – 3 April 2019
Entrance exam: Online entrance exams
Studies start: Autumn 2019
Applying takes place online at Studyinfo service (see also for admission requirements):
Bachelor of Health Care, Nursing, full-time studies, Pori
The entrance examination consists of two parts:
Written exam
Online interview
Written exam measures applicant's learning skills, mathematical skills, motivation and understanding of written English. The time of the written exam will be limited.
In the online interview, the applicant will be interviewed through a video negotiation platform with his/her own computer, webcam, headset/microphone and Internet connection. Applicant's skills of understanding and producing spoken English are measured. The applicant is given a time of 20 minutes for the interview by invitation – the applicant cannot change the date and the time of the interview.
The entrance will be instructed to eligible applicants by e-mail before the examination opens. There will be more detailed information in Studyinfo.fi about the examination.
Those applying to study in the field of Health Care and Social Services must have a sufficient good health status and functional capacity to be capable of completing practical assignments and work placement periods as part of the studies. Information about health requirements in this field is available on UAS websites and on the Studyinfo.fi service.
Those applying to the field should bear in mind that:
studying and working in a profession of this field require good mental balance;
the field is not suitable for illegal drug users or for alcohol or legal drug abusers;
conditions such as musculoskeletal diseases, chronic skin diseases, allergies and mental health disorders may lead to health issues during studies or later in working life;
a blood-borne disease may restrict the progress of studies and employment;
several operational units of social and health care treat patients that are exposed to infections, and work in those units requires that the staff's immunisation is in order.
Satakunta University of Applied Sciences may cancel admission for the following reasons:
an applicant fails to submit certificates by the deadline specified by the University of Applied Sciences
an applicant has provided false information about his or her grades
an applicant admitted to the Degree Programme in Biomedical Laboratory Science cannot be considered fit for the programme based on a certificate of visual acuity
it is obvious that the student, in terms of his or her health status and functional capacity, does not meet the admissions criteria (Polytechnics Act 932/2014)
an applicant has concealed the cancellation of his or her prior study entitlement (Polytechnics Act 932/2014).
Promoting Clients Health and Wellbeing and Treating Their Diseases
The Degree Programme in Nursing will prepare you for a valued profession, in which you will be working with clients of different age groups promoting their health and well-being and treating their diseases. You will gain competences based on ethical principles, comprehensive and multidisciplinary knowledge, practical skills and interaction skills.
SAMK students will be employed
As a graduate nurse, you can work in different care settings from clients' homes and open counselling centres to intensive care units in hospitals as well as a private entrepreneur.

Modern and Versatile Campus
The new SAMK-campus is located in the city centre of Pori and it is future's learning environment.
Over 4000 students
Diversified: business, health care and social services, technology, tourism
Around 600 degrees per year
Good traffic connections: located next to the Travelling Centre of Pori. It is easy to arrive by a local or long-distance bus and within walking distance from the airport.
Your Studies
Basic Studies (Communication Skills and Basic Nursing Interventions)
Professional Studies (Medical, Surgical and Perioperative Nursing, Child and Adolescent Nursing, Family Nursing, Mental Health and Substance Abuse Nursing, Gerontological and District Nursing, Clinical Calculations)
Clinical Practice and a Bachelor's thesis
Your studies consist of contact classes, projects, clinical simulations and online studies.
Internationality
The studies take place in English in a multicultural group of students in close cooperation with nursing settings and health care agencies. Internationality is integrated as a natural part of the degree programme. Internationality competence manifests itself as language skills, interactive skills and cultural competence. The student also has the possibility of completing studies or practical training periods abroad.
Goals of the Studies
your professionalism in nursing is based on health promotion and ethical practice
you are able to work independently and in multidisciplinary teams
you are creative and innovative in developing client-oriented services in social and healthcare
Practical Training and Thesis
The practical training introduces the student to practical work tasks that are essential especially to the professional skills and to the application of knowledge and skills in professional work. The practical training can be completed in the private or public sector, as an entrepreneur or in another separately approved working environment, fulfilling the set criteria, either in Finland or abroad.
In the thesis, you demonstrate your ability to apply your knowledge and skills in practical expert duties related to the professional studies.
Last updated Feb 2019
About the School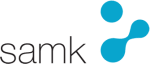 Satakunta University of Applied Sciences (SAMK) is located on the western coast of Finland, in the Satakunta region. There are about 6,000 students in total and more than two hundred international stu ... Read More
Satakunta University of Applied Sciences (SAMK) is located on the western coast of Finland, in the Satakunta region. There are about 6,000 students in total and more than two hundred international students studying in our campuses every year.
Read Less