Associate Degree of Nursing
Home ›
Associate Degree of Nursing
Programme Description
St. Augustine School of Nursing is Asia's pioneer and largest school for Practical Nursing, Nursing Aide, Professional Caregiving and Medical Transcription. Committed to making students learn in a caring environment. Reaching out to the communities it serves via medical missions and various outreach care programs. The very same type of Pinoy Care that St. Augustine graduates are sharing here and abroad.
In response to the rising demand for healthcare professionals here and abroad, St. Augustine School of Nursing (S.A.S.N.) was established in 2004. The response to the pioneer branches in España Manila, Lagro Quezon City, and East Rizal was phenomenal.
The continuing success of St. Augustine is anchored on the world-class quality of training it provides and its continuous upgrading of curriculum to meet the growing needs of medical tourism, healthcare, and the hospitality business. Its advanced curriculum meets the minimum standards set by the Technical Education and Skills Development Authority (TESDA) and provides a more holistic approach in producing healthcare professionals equipped, not just with the basic skills and knowledge in taking care of patients, but are also taught basic computer skills, personality development, legal aspects in the workplace and foreign languages.
Why choose St. Augustine School of Nursing?
No.1 Chain Nursing School (National) in the 2004 National Shoppers' Choice Annual Awards.
Recognized as the Outstanding Caregiver School for 2003 by the Philippine National Caregiver Association.
Job opportunities through InfoTech to earn US$2,000 or more monthly.
Certification in just 6 months with full international standard of hospital on-the-job training.
IT-based nursing education. Gives you an edge in landing one of the 500,000 worldwide job openings for caregivers and nursing aides.
Professional and experienced faculty.
Offers language training and cross-cultural orientation.
A member of the AMA Education System with international linkages.
Registered with TESDA under new training regulations.
COURSES
2-year courses
2 - year Wellness and Hospitality Management.
2 - year Practical Nursing.
Short Courses
Medical Transcription.
6-month Professional Caregiving.
1-year Healthcare Services or Nursing Aide.
Elderly Care Household Services.
FCCCA (Finishing Course for Call Center Agents).
Food and Beverage.
Housekeeping.
English Proficiency.
Pharmacy Services.
Cabin Crew.
Senior High
Offering Grades 11 and 12.
Duration
Last updated Dec 2017
About the School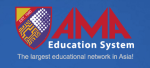 AMA Education System (AMAES) is the largest educational network in Asia and a member of the AMA Group of Companies.
AMA Education System (AMAES) is the largest educational network in Asia and a member of the AMA Group of Companies.
Read Less